Developer Paul Little also appeared to be enjoying himself in the airconditioning alongside tennis champ Dylan Alcott, and 3AW's Ross Stevenson and Neil Mitchell (taking time out from Macquarie Media's own bolthole at the event).
Former premiers Ted Baillieu and Denis Napthine also earned a guernsey from the government, evening up the Liberal numbers on a day where the Coalition was practically invisible.
Outside, former Murdoch lieutenant turned F1 boss and walking moustache Chase Carey was spotted at the Paddock Club talking to former champ Jackie Stewart.
Above Pit Lane, Ten bosses chief executive Paul Anderson and sales boss Rod Prosser held court inside the official broadcaster's suite, spending much of the day talking to Victorian Racing Club CEO Neil Wilson.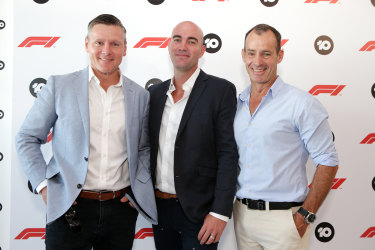 Adding up the Grand figures
An ebullient Australian Grand Prix boss Andrew Westacott spent the weekend telling anyone who would listen that the Albert Park petrol fest had broken attendance records with a crowd of 85,000 recorded on the Friday alone.
But whatever the attendance wash-up, it's unlikely to make a difference for the government's contribution to the event given the Australian Grand Prix's latest figures.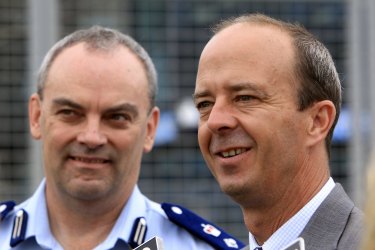 The GP's annual report from 2018 showed the government poured in $57 million to prop up the event, which brought in revenues of $47 million from a total expenditure of more than $100 million.
Premier Dan Andrews maintains it generates more than $40 million in economic benefits, plus a further unquantified amount in international exposure.
But for those at the track on Sunday it's money well spent. Just ask Tennis Australia boss and prime competitor Craig Tiley, who was spotted scoping out the Paddock Club on Sunday.
He said the Australian Open set the standard for big events, but he still found the Grand Prix to be "very good".
Also spotted close to Pit Lane: Victorian Governor Linda Dessau and Carlton Football Club president Mark Logiudice.
Swapping stripes at the AFL
Andrew Demetriou did the industry equivalent of hiring a skywriter to spell out his federal election predictions in 2013, when he poached Tony Abbott's trusted aide Judith Donnelly to head the AFL's government relations desk in the months ahead of polling day.
His successor Gillon McLachlan appears to be following the same playbook ahead of this year's election, this week kicking off the process to find a new envoy to Canberra.
Turns out Donnelly quietly tapped out of the role in February, moving sideways to take a new gig heading the AFL's corporate social responsibility arm.
Her Liberal credentials stretch back to the Howard government, where she served under ageing minister Santo Santoro.
More recently, her Liberal stripes were put to use helping McLachlan's cousin Callum MacLachlan contact Peter Dutton's chief of staff Craig Maclachlan, when the Adelaide-based family's French au pair found herself banged up inside Adelaide airport.
But back to the AFL's hunt.
No doubt the league is after someone who can pick up where Demetriou-era government relations boss and ex-Laborite Phil Martin left off, not to mention someone who can get the polo-loving and Liberal-linked McLachlan an audience with the senior ranks of a Bill Shorten-led government.
Also on the list of ideal credentials is time "served as a ministerial adviser or senior policy adviser in government or community sectors".
The job ad makes no mention of Labor.
Then again, at this point in the election cycle, it doesn't have to.
Samantha is the The Age's CBD columnist. She recently covered Victorian and NSW politics and business for News Corp, and previously worked for the Australian Financial Review.
Kylar Loussikian is The Sydney Morning Herald's CBD columnist.